Enroll and begin your yoga journey!  Live the life of your dreams!
Training Application:
Online 200 Hour Teacher Training + Retreat
Start Dates
October 15 | November 1, 15
Class of 2019
Yoga 4 Love Advanced Training Programs Online is a life enhancement course; a complete personal transformation tool with a wonderful TRIBE of goddesses on the same journey with you. 
You will easily develop a strong, personal relationship with your Tribe and your Director. You may intend to do this course for a certification with Yoga Alliance; many women join our Tribe for the personal growth, self care and accountability. 
You may choose to enroll in this course to give back to your Self or you may choose to go on to organically teach what you learned through this journey to others.
This training is a really great support with a huge sisterhood
TRIBE of goddesses from all over the country. You may choose to meet up in person at the next Yoga 4 Your Inner Goddess Retreat in Texas or in Hawaii!
Choose your own Start Date.
This program is designed to work seamlessly into your life.
Training Application:
2 Tracks, you may choose:
Fast Track (6 months, a module a month)
Slow and Steady (1 year, a module every 2 months).
6 required modules
18 hours plus hOMework each module plus required reading and personal daily practice hours
Log and turn in weekly
Sabbatical available; special circumstances so you can pick back up in your course.
24/7/365 ONLINE TRAINING
FULL SUPPORT FROM YOUR DIRECTOR, COACHES, OUR TRIBE + OMAZING STAFF
Yoga 4 Love is a Yoga Alliance
Registered Yoga School RYS 200 and RYS 500
 WHY TRAIN ONLINE:
Personal feedback regularly from your Director
Student log turned in weekly (super easy)
Progress on your practice with tons of included audio and video
Daily Sadhana accountability
Develop a strong Self Care and Self Love practice!
Required reading, learn from the masters
Website Training platform + Online Classroom
Chat with your siSTARs daily (off social media)
Be you!
Commune with like minded ladies!
Do life with your Goddess Tribe!
LIVE Streaming Video Classes with Lisa Ware
LIVE workshops, festivals, conferences + events
Video Chat Sangha Community~ for weekly shares, yoga programming and bonding as a tribe of Sisters
Trainee internships with Director~ available and included, optional
Yoga 4 Love Advanced Training is a 200 and 500 Hour Yoga Alliance Registered Yoga School.
Course Overview
Yoga 4 Love Advanced Training Program is a lifestyle enhancement journey with a special focus on Vinyasa Yoga, the Divine Feminine Shakti and Energy Healing.
Enroll today for 3 Bonuses for Class of 2019:
 Auto Pay Plan with In Studio Financing with Deposit
or
Paid in Full 10% off
Get certified to teach with Yoga 4 Love Online! Let's do this, Goddess! It is time to go live your dream!
No Prerequisites Necessary
Yoga Teacher Certification includes:
Foundational Modules 1-6

Teachings directly from Lisa Ware and her Directors

Lisa's Book Yoga 4 Love Tools for Mind, Body, and Spirit: For a Holistic Lifestyle: ORDER HERE

Audio Modules

Online hOMework

Yoga practices via audio and video classes

Partner with your Goddess Tribe!!!

Fundamentals of an Ayurvedic self care practice

Self Love as a first priority

Accountability with your Director

Private and group chats off social media

Track of your choice, Fast or Slow + Steady

Graduation Online or at the next Retreat!
This course is designed to take you from a raw beginner to a daily self care routine that you can use the rest of your life. Yoga 4 Love is a Life Enhancement Course! Enjoy the journey of Self discovery. Be part of the GODDESS TRIBE!
Enroll today!
No yoga practice necessary
All levels can take this course
Very beginner to advanced practitioner
Heal yourself and help others!
No need to desire to teach, do this for YOU!
Choose Payment Plan then:
Start your Yoga 4 Love Training journey today!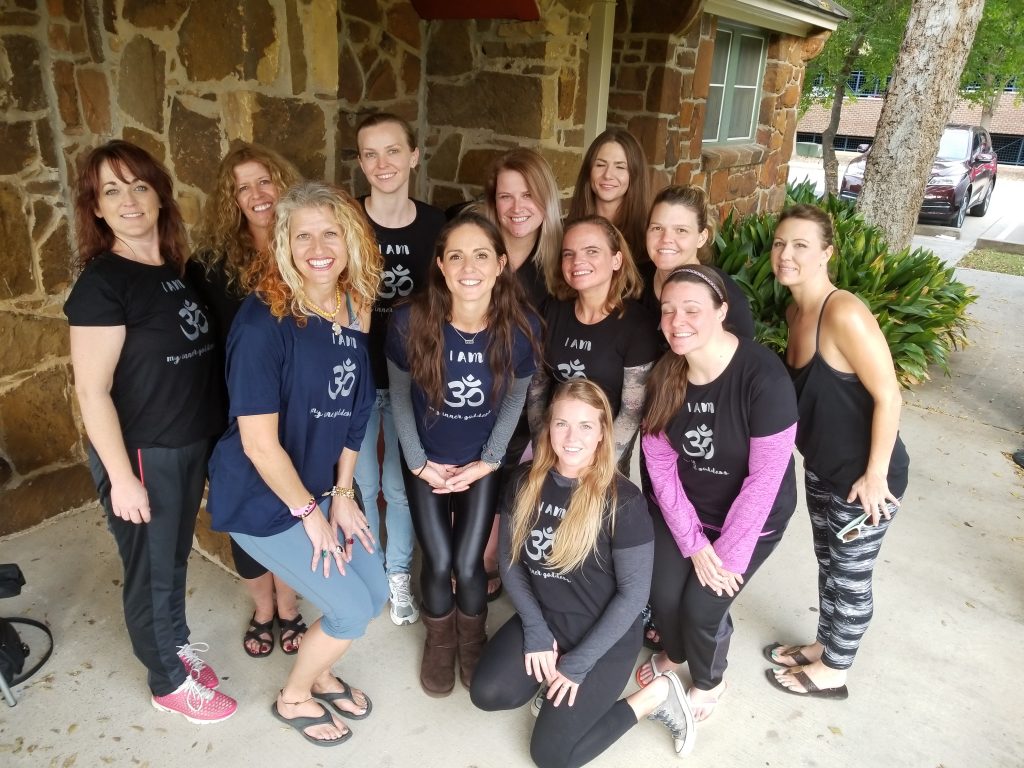 Pay Online
Enroll in Course
Set up Discovery Sesh Interview
Meet your siSTARs in the Goddess Tribe Chat
Details on how to enroll:
Choose your payment plan with the buttons on this page.

Pay deposit/auto payment plan or paid in full~ Save 10%!

Add 200 Hour RYT to your cart (only 1x)
Checkout (this will be $0 since you already paid)
After checkout it will drop you into the registration page to 'My Account'
Click on blue letters '200 Hour RYT' after you checkout.
See progress bar; start on Registration module.
Book your Discovery Session before or after enrolling!
Welcome to your Yoga 4 Love Journey!
Select your Payment Plan
Then
Course Curriculum
History of Yoga | The Yoga Sutras
Yoga Philosophy
Hatha and Vinyasa Yoga Asanas 101, 201, 301
Lisa Ware's Signature Vinyasa Flow Sequencing 101, 201 and 301
Lisa Ware's Signature Class Formats Yoga 101, 201, 301
Hatha Yoga Asanas 101b and c | Communication and the Business of Yoga
Goddess Archetypes and Empowerment
Basic Anatomy and Alignment 101
Teaching to Special Populations: Kids, Seniors, Injury Recovery, Pre and Post Natal
Cueing, Sequencing, Video Teaching
The Chakras
Cueing and Video Teaching
Sanskrit Basics
Pranayama
Meditation
Daily Sadhana Practice
Journaling
Daily Self Care
Course Modules
History of Yoga | Hatha Asanas 101 | Signature Vinyasa Yoga Sequencing 101
Hatha Yoga Asanas 101b and c | Communication and the Business of Yoga
Lisa Ware's Signature Vinyasa Yoga Sequencing 201 | Hatha Asanas 201
Basic Anatomy and Alignment 101 | Teaching to Special Populations: Kids, Seniors, Injury Recovery, Pre and Post Natal
Signature Class Formats, Cueing and Video Teaching with Lisa Ware, Reiki Master Teacher
Questions?
Do you have questions about getting started? We are happy to help.