Book: Yoga 4 Love, Tools for
Mind Body and Spirit for a Holistic Lifestyle by Lisa Ware
Lisa Ware's book Yoga 4 Love Tools for Mind, Body, and Spirit: For a Holistic Lifestyle hit the shelves on summer solstice 2018 and made its way to the top of the charts, ranking at the .0015 percent out of 8M books!
Book a lecture/workshop on Lisa's Book Tour for your audience!
 
Yoga 4 Love Tools for Mind, Body and Spirit: For a Holistic Lifestyle
Available in paperback on Amazon and all major online book sellers!
Welcome to the much needed instruction manual for those who are ready to delve deeper into a personal practice of yoga, meditation and spirituality.

Experience a strong connection to the Divine Feminine through this book which has arisen from a desire to bring the ancient teachings of the goddess within to people of the 21st century.

The depth and simplicity of traditional and new teachings are appropriate rather you are new to yoga or an advanced practitioner.

Learn yogic philosophy while gaining personal growth. Receive guidance and wisdom with teachings written straight from Spirit.

The tools offered are written to read straight through, or utilize each lesson independently. It's like having a personal life coach right at your fingertips!
Pre Order Lisa's book then click on the link to get your SWAG!
#givekindatry

Become a Yoga 4 Love Global Goddess Ambassador! 
Applications will be accepted until May 31, 2018
Yoga 4 Love's Big Book of Yoga Postures, Asana 101, 201 and 301
This is a compliment to the paperback, including all the yoga poses, benefits and full color photos of each posture. This eBook is for beginners and advanced practicers alike. Lisa began the journey of writing and training others the traditional vinyasa teachings in 2012 and this knowledge is encompassed in this amazing eBook. Download it for free today!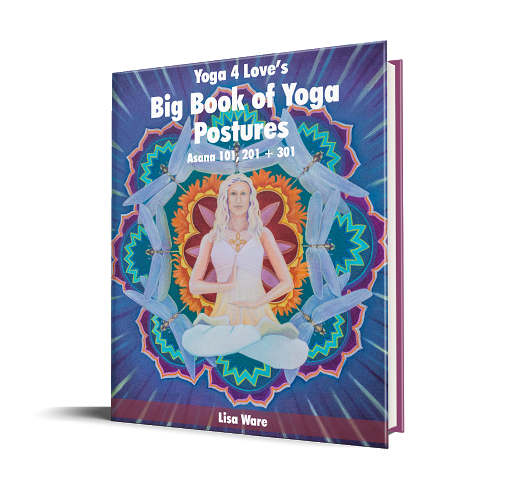 21 Days to Feeling Fit Healthy Living Tribe eBook
Our 21 day plan is so much more than a fitness program, we focus on the inspiration, the intention, the plan, the support and in everything we do we offer tools for mind, body and Spirit. You may do this simple 21 day plan on your own or partner with one of our coaches! Check out the Healthy Living Tribe for details on how to become part of our TRIBE online!
Download the eBook for free today!
Lisa Ware is a Yoga Instructor, Reiki Master, health, life and business coach. She is the Founder ofYoga4Love.com and a happy wife and a mom living in rural Texas on their beautiful retreat center property with their dogs, cats, horses and chickens.
Her mission is to create tools to connect to the highest good for ourselves and our planet through Christ Consciousness.
Peace, Love and Light.